Who Can Join Team Diadem?
Team Diadem is a sponsorship program for juniors, coaches and professional players. In order to qualify for a junior sponsorship you must be playing events where you can promote Diadem products simply by using them. We look for coaches who work with juniors as well as adults who can use Diadem products and let your clients try them as well. All professional players with ATP or WTA points will qualify for some level of sponsorship.
TEAM DIADEM BENEFITS
Discounted or Free Diadem product.
Account on our website for easy ordering.
Dashboard access for easy reorder, order tracking, and wish list.
Access to racket and string packages.
Access to new product play testing.
Priority contact through email or text.
Product consultation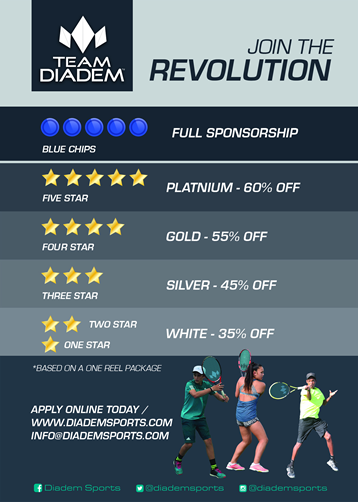 What do I qualify for?
While we look at a multitude of factors for junior sponsorships, American junior discounts listed on the left are based off of Tennis Recruiting rating in your graduating class. Junior players based in regions we have distributors will be passed on to them for evaluation. Juniors players in regions without a distributor will be based off of ITF and National rank. Coaches and professional players will be evaluated upon review of their application.